Clergy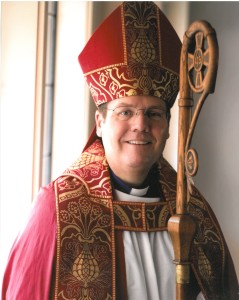 The Rt. Rev., Dr. Eric Vawter Menees, Bishop
 
The Rev. Ryan Bradley, Rector  
Fr. Ryan Bradley came to St. Luke's Anglican Church in the Fall of 2015, after having served as a full-time professor at Biola University's Torrey Honors Institute and Assistant Priest at Anglican Church of the Epiphany, La Mirada (which he helped plant). He has taught undergraduate or graduate courses in the areas of Christian Spirituality, Historical Theology, Ethics, Spiritual Formation, and Religious Studies. His teaching in the Torrey program consisted of leading undergraduate seminars in the classic texts of literature, philosophy, and theology. Fr. Ryan has worked as a spiritual director for over a dozen years. He grew up at Whittier Area Baptist Fellowship, where he volunteered with the youth ministry for five years, before serving on staff and as an intern at the Anaheim Vineyard Fellowship. He was also a chaplain-in-residence at Georgetown University. He has degrees in literature, religious studies, philosophy, and spiritual formation. He also completed the coursework and comprehensive exams requirements for a PhD in Theology and Religious Studies, specializing in Christian spirituality, from The Catholic University of America, before shifting from an academic career to full-time parish ministry.
Fr. Ryan married Juliet on June 18, 2016. Juliet is pursuing graduate work in Speech Pathology. She is also a professional photographer, an accomplished classical pianist, and a Latin and art history teacher. Fr. Ryan is very proud of and grateful for her godly character and loving-support, as well as her many gifts and passions.
Fr. Ryan is an avid reader of everything from literature and history to mystery, science-fiction, and fantasy novels (and he enjoys them equally in print and audiobook). He loves attending theatre, but is relieved that all video of him performing as Flute/Thisbe in Midsummer Night's Dream has disappeared. He loves cooking (especially with Juliet) and going out to eat, walking and being outside, playing board games, and practicing tai chi and aikido.
---
Staff
Mady Montague
Choir Director
---
 Marian McFarland
Organist
---
Mrs. Patti McClain
  Administrative Assistant

office@stlukesmerced.org
---
Altar Guild
---
Kathy Hill
Ms. Darby Minturn
Altar Guild Director
---
 Vestry
---
Mr. Mike Waite
Mr. Max Dalrymple
Jr. Warden
Mr. Rob Mercurio
Member Of The Vestry
---
Mr. Ed Gardner
Member Of The Vestry
---
Mrs. Cheryl Mayo
Member Of The Vestry
---
Mrs. Victoria Schuller
Member Of The Vestry
---
Mrs. Kathy Hill
Member Of The Vestry
Ms. Darby Minturn
Member Of The Vestry
---